Andy's Tire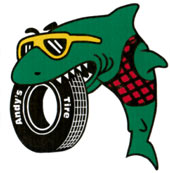 Phillips Auto Sales is a proud supplier for Andy's Tire. Andy's is the number one independent distributor of new passenger and light truck tires in Atlantic Canada today.
Andy's is the exclusive dealer for Multi-Mile Tires east of Quebec. These tires are purchased from one of the world's largest tire distributors, T.B.C. Corporation, head quartered in Memphis, Tennessee.
We invite you to stop in the next time that you need tires or tire service.